Teachers Who Went to BVN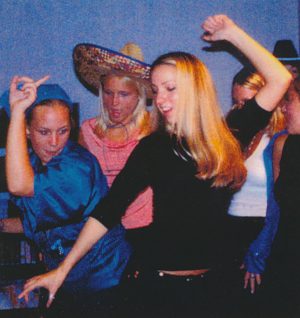 Many students know little about their teachers' personal lives and struggle to see them as real people. However, some teachers have more in common with current students than the latter would have ever thought: those teachers were once BVN students, too.
For Erin Nathan, '92, math was her favorite subject in high school, which is a large part of why she is now a math teacher. Since a young age, she knew that she wanted to become a teacher, and her teachers at BVN only solidified her beliefs.
"Especially my math teacher [inspired me to become a teacher]. She was amazing. I still think some of the things I do in my classroom is very similar to the way she taught," Nathan said. "Definitely my experiences from North made it easy to come back here."
English teacher Diana Klote, '07, also appreciates her former teachers, but she revealed one small difficulty of working with them: calling her now-colleagues by their first names.
"It was kind of weird and hard at first," Klote said. "So, for a while I just called the teachers by their first and last names together, so that it didn't seem like I was just calling them by their first name. But now I'm definitely more used to it. Except for Mr. Pittenger. For some reason, I have a really hard time calling him Jon."
Special education teacher Anna Tedder, '12, still marvels at how she ended up teaching here.
"Some days I walk through the hall and expect to see my own friends that I saw in the halls when I was in high school," Tedder said.
Outside of class, Tedder was a peer tutor and a member of the softball and swim teams. She was also a photographer for the yearbook during her senior year.
Librarian Abby Cornelius, '96, was very active in the school herself. She participated in band (where she played mellophone and oboe), basketball, soccer (coached by current BVN teacher Tom Holland), cross country and National Honor Society.
"I was at school all the time," Cornelius said. "Like I got here at early, 6:30, 7, and then was home at 9, 9:30 or whatever. There was always some activity at school."
Klote was also involved in several activities. Notably, she was part of one of the first groups of Mustang Mentors, editor-in-chief of the yearbook and captain of the cheer team.
"I don't fit the normal cheerleader stereotype," she said. "What's funny is that I was actually a really quiet kid."
On the other hand, Nathan and English teacher Kat Buchanan, '02, weren't as involved in activities. Nathan played basketball for her first two years of high school, while Buchanan participated in debate, also for two years.
Despite some differences among the BVN teacher alumnae, most agree that the school has changed noticeably since they attended here.
Cornelius pointed out that the level of technology has shifted significantly since she attended the school.
"There were no cell phones, there weren't computers in the library, there wasn't the ability to connect with people who don't go to your school," Cornelius said. "So my friends went to my school, period. I wasn't friends with people at other schools because I didn't have any place to meet them, really."
Nathan also pointed out some changes in the structure of the building. When the school was built, the front of the school, where the main office and little theater are now located, didn't exist. That was all built in the last 10 years.
As for the school's culture, Buchanan said that athletics have improved greatly, culminating in the football team's recent state championship win.
"We used to be good at what I call the country club sports,"she said, "so golf, tennis, and swimming. We always ruled at those. We were terrible at the real sports for the most part, including and especially football."
Buchanan also said that the level of student diversity has noticeably increased since she was a student here.
"I think our population is much more diverse now, and that's a big difference. When I was here, it was pretty homogeneous," she said. "I can't even think of a person who transferred to our school during high school. So, everyone grew up together … Now, there are kids who move in who are new all the time. That just didn't really exist 16 years ago."
As a whole, the alumnae were glad to come back to teach at BVN.
"I was really excited, just because I thought it would be a fun opportunity to come back and teach here," Klote said. "I knew that North would be a good fit."
For Buchanan, coming back to the school to teach wasn't too strange, mostly because she wasn't too interested in her coursework or her extracurriculars when she attended the school.
"I guess, to me, I never really went here as a student, not really, doing what I was supposed to do, so I'm invested now in a different way, a completely different way, into the actual building and the activities and the curriculum and education and classes, and so now, I feel like, [this] is my North experience."
Leave a Comment