Rivalry Game Feeds Excitement
The Blue Valley North varsity football team faced Blue Valley Northwest Friday, Oct. 8. Although the Mustangs fell short to the Huskies with a final score of 35-21, the homecoming football game drew a large crowd, and the rivalry was alive.
The schools have a notorious rivalry that is used to drive not only the athletes on the field but also the Mustang student section. Regardless of the sport, rivalries between teams have an impact on the people involved.
"I feel like the rivalry fuels us because we know how good of a team they are, we respect them, we know how everyone is expecting us to win, but we also know how hard or easy this game can be…" senior defensive lineman Myzelle Law said. 
Games against BVNW are games that students and athletes alike look forward to. That increase of intensity can bring new levels of focus and determination for the team, in both positive and negative ways.
"I think the rivalry impacts us in more of a positive way because we know how we don't like Northwest, because of our school's rivalry," Law said. 
Another large part of football games is the student section. The student section has the ability to raise the spirit of not only the other fans in the stadium but the players as well.
"I don't feel sad [about not being in the student section] because I like feeling the energy of all of them coming out to support us," said Law.
The student section at North is run by a group of students, the Spirit Club, which helps to keep the students engaged in the game and also having fun.
"It is really fun leading the student section because you can see everyone, even in the back, get really excited and everyone is unified. It is super awesome," spirit club member and varsity cheerleader Caroline Shewmaker said. 
Oftentimes, at sporting events, especially football, the student sections will yell and cheer back and forth. This already intense part of the student section(s) is only intensified during a rivalry game.
"I think because people have a lot of friends at Northwest and everyone is competing against who can be louder, it's super fun," Shewmaker said.
Leave a Comment
About the Writer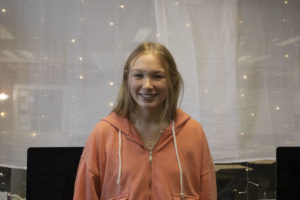 Anna Sandage, Social Media Editor
Anna Sandage, Social Media C0-Editor

Anna Sandage...