The Spotify Courtroom
Staff writer Jack Toal puts BVN's playlists on trial. This week, senior Emme Mackenzie testifies with a playlist that reflects on a past relationship and pulls from pop, indie pop, and R&B.
Initial Grade: 90/100
Genre(s) Included: Pop, Indie Pop, R&B
Submitted by: Emme Mackenzie, Senior
Original Playlist: now we are strangers again
"Some songs are about wanting them back. Some songs are about wanting to see them again. Some are about the beauty of the relationship that is now a memory. Each song realizes that even though the separation hurts, it was worth it. I think that's what life is all about, in some ways. So it's all over the place, but I think it needs to be in order to examine all the different ways to look at loss." – Emme
---
Emme, this is one of the first playlists I've heard that almost have a story to it and it was an interesting listen. I honestly really like this playlist but I have a feeling that one of my 'complaints' will get me in trouble. Personally, I just don't really like Taylor Swift's music and you have a lot of her in this playlist. I like "happiness", "'tis the damn season" and "New Year's Day" but I would personally remove the rest of her songs. Besides that, I'd only remove "Danny's Song" by Loggins & Messina just because it is the only country song you really have in here and it doesn't quite fit. I'd also remove "Somewhere in Time" by John Barry and maybe "You" by Petit Biscuit I like "You" more though because it doesn't quite fit as an instrumental (yes, I know the La La Land is an instrumental too but it is really good so I'd keep it.) but besides that, I like everything else in there since it adds to the story that is constructed into your playlist.
As for additions, I would add Chloe Moriondo to this playlist for sure. Her album Rabbit Hearted has many good songs that have a slower tempo and are made about love. You should check out "Waves", "Luv Note", and "Dream About U" from the album as well as "Kindergarten" which is a single she released. You should also 100 percent add Daniel Caesar to this playlist. Any of his albums are suitable for this playlist because of the slowed beats he has under his heavenly vocals that layer into this playlist nicely. So, I am going to suggest some of my favorites of his. Firstly, "Japanese Denim" is the most important because it is so good. Also add "Streetcar", "Death & Taxes" and "TOO DEEP TO TURN BACK" as other songs. This is favored more to the Frank Ocean side of your playlist so you may think they don't fit as well but I think they would fit great because of how his lyrics attribute to the idea you seem to be going for. Lastly, The Marias would be a good addition as well. I'd add "Only in My Dreams", "…baby one more time", and "Over the Moon". "…baby one more time" is a little more up-tempo than some of the others I recommended, but I think it would fit since you have more than just sad songs in this playlist. The Marias add a bit more variety i think because the closest relation they have to an artist you already have would probably be Frank Ocean so having that variety but keeping the theme would make the playlist more interesting in general.
As for other artists, I'd suggest I would put in Rex Orange County, Lorde, Mac Miller, Alex G, Jaden Smith, Phoebe Bridgers, beadoobee, Briston Maroney, and Dayglow. They all fit nicely into your playlist due to their variety in love songs but also still have that sad tone in most of their songs.
I really like this playlist and I accidentally may have strayed away from your original goal but I like how the revised playlist turned out.
What I'd Call It: back to where i started
Leave a Comment
About the Writer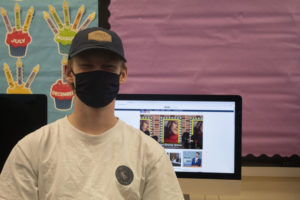 Jack Toal, Web Editor
Jack Toal is a Senior and Web Editor for "The North...