The Spotify Courtroom
Staff writer Jack Toal puts BVN's playlists on trial. This week, junior Max Wolf comes back to the courtroom and testifies with a new playlist, consisting of songs that Jack describes as feel-good oldies.
Initial Grade: 95/100
Genres Included: Oldies, Blues, Motown, Soul
Playlist length: 1 hour, 32 minutes
Received from: Max Wolf, Junior
Original Playlist: that one time in that girls car
"It's a lady killer" – Max
---
Max, you got another banger here. This playlist meshes together so well and has all the classic Motown/soul artists you could ever want in one place. There are only two songs that I would say don't fit in this playlist. "Rain" by The Teskey Brothers and "Song for the Asking" by Simon and Garfunkel are just too slow to fit in with the rest of the playlist. Every song but these two carries a majority positive sound and happy lyrics but "Rain" and "Song for the Asking" go against that theme of your playlist. The only other one you might consider removing is "Hard Times" by Ray Charles since it fits into the slower category I described, but I would honestly just keep it because of how good "Hard Times" is. It seems like you went for an intimate, oldies playlist, where a lot of people know the songs/artists, so everyone enjoys listening to it.
Since there is so little to remove, I'm going to give you more suggestions for people to add. First off, you're missing one crucial person: Marvin Gaye. Gaye has so many classics and is a legend among the soul genre. "Ain't No Mountain High Enough", "I Heard it Through the Grapevine", and "Let's Get it On" are must adds to this playlist because of the intimate sound they have, similar to the other songs on this playlist. Not to mention, these are some of the most popular songs in his discography so it's easily recognizable and makes for a perfect sing-along. Another must add to this playlist is Stevie Wonder, another legend in the Soul and R&B genre. Wonder's album "Songs In The Key Of Life" is one of the most renowned albums of all time with must adds like "Sir Duke", "Isn't She Lovely", and "I wish." Outside of this album, you should add "For Once In My Life" and "I Wanna Make Her Love Me" because, similarly to Marvin Gaye, Wonder has many classics that would fit perfectly into this playlist because of the catchiness of all of their beautifully designed songs. The last artist you should add would be The Mamas & The Papas. Their album "If You Can Believe Your Eyes And Ears" has many, many, many elite songs that fit in this playlist. "Straight Shooter", "Hey Girl", "You Baby", and of course "California Dreamin'" are great additions to this playlist because of how similar their sound is to many of the other artists you have on here as well as creating a broader genre reach for your playlist.
Other artists you should add would include but are not limited to, Etta James, The Temptations, Bobby Darin, The Beach Boys, Bob Dylan, Eric Clapton, David Bowie. You can always add more songs from artists you already have on here, such as Otis Redding. They all have similar 60's-70's sounds that you have incorporated throughout your playlist.
This playlist really excites me and puts me in a good mood. It sounds really good and I hope you'll really enjoy the revised playlist because I think it's one of the best ones I've built so far. 
Revised Playlist: a house party in the 70's kinda vibe 
Leave a Comment
About the Writer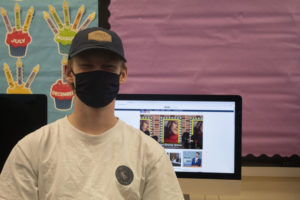 Jack Toal, Web Editor
Jack Toal is a Senior and Web Editor for "The North...