The Spotify Courtroom
Staff writer Jack Toal puts BVN's playlists on trial. This week, junior Jordin Mackenzie testifies with a playlist of mostly indie, indie pop, and alternative.
Initial Grade: 87/100
Genres Included: Indie, Indie Pop, Alternative
Playlist Length: 56 minutes 
Received From: Jordin McKenzie, Junior
Original Playlist: driving in a car. thinking of you
"This is a playlist I made at the beginning of the school year that I listened to while driving home from ACT tutoring." -Jordin
---
Jordin, this is a very nice playlist but it's short and you have one song that is repeated twice ("Youuu" by COIN). You use a lot of alternative and indie songs in this playlist, so it doesn't skip around a lot and all of the songs are good. The only exception would be "A Phone Call In Amsterdam" by Valley which is much louder than the others and I don't really like the chorus or beat and how loud and random it gets. I just don't really like the song much in general. Otherwise, since it's such a small playlist, there isn't much to remove. As for additions, based on what you have so far and the name of your playlist title, it seems like you'd like some more indie songs with some sad lyrics, but songs that are also fairly catchy.
First, you should check out Bleachers and their album "Strange Desire". Their songs "Wake Me", "Take Me Away", and "You're Still A Mystery" are super similar to the songs you have on your playlist already, but also have a somewhat dreamy sound. Next, you should check out BETWEEN FRIENDS and their EP titled "we just need some time together". The songs "affection", iloveyou", and "shiny" ("shiny" is not on the album but on tape 001), in particular. BETWEEN FRIENDS blends well with the Valley and Hippo Campus sounds you have already and they fall more into that loud chorus, soft vocals type of songs you have on here. Also, check out Reaper and their album "heady". I think the best songs from this album from this playlist would be "HEADY", "VERTIGO", and "TERRORS" because they're much slower when compared to the rest of the album. They also add diversity with their instrumentals being more electronic-based, compared to the others.
As for other artists to add, you should consider Dreamer Boy, Wallows, more Declan McKenna, LAUNDRY DAY, The Brummies, and ROLE MODEL, since they have similar vocal sounds over some electronic beats. I tried to find some songs similar to the ones you have but you already have a good layout. My main suggestion would be to add some more of the artists you already have.
Revised playlist: Wrong Again
Leave a Comment
About the Writer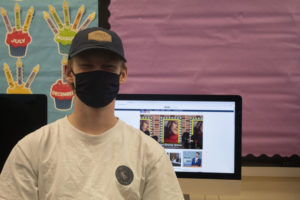 Jack Toal, Web Editor
Jack Toal is a Senior and Web Editor for "The North...