The Spotify Courtroom
Initial Grade: 71/100
Genres Included: Pop, Hip-Hop, Punk, Rap
Playlist Creator: Harper Wainscott
Playlist: breakup hype songs 
To be brutally honest I really just don't like this playlist. It feels like a compilation of tik tok trend songs and then some random songs that came from the suggested section when making a playlist. There's no real trend to the songs and they don't really mesh together in general. Although it's supposed to be 'breakup hype' it feels like only about half to three quarters of the playlist even has to do with a breakup. The rest of the songs in general are mostly boring and trite, I don't think listening to really any of these after a breakup would help you feel better at all. Although some of the songs in this playlist are classics and songs I enjoy often they don't really work in a playlist like this.
I'd suggest removing all the songs that don't fit with the theme of your playlist. Such as, "Humble" by Kendrick Lamar, "Work Out" by J. Cole, "Up" by Cardi B and quite a few more. The one that pains me most to remove is "Not Over You" by Gavin DeGraw because it's very good but it goes against your whole playlist intent. Songs that actually apply more to the playlist you should definitely keep as well as adding more pop type songs to the playlist. Since you also have a lot of throwback songs I think it'd also be good to add more of those that would still fit what you're trying to achieve.
For your revised playlist I was looking to add more pop, especially throwback songs since that was what you had the most of. For example "Cry Me A River" by Justin Timberlake, "Some Nights" by fun. "T.G.I.F" by Katy Perry, and "Me and My Broken Heart" by Rixton. I also saw that you had a couple of Pitbull songs in your playlist so I added "Don't Stop the Party, Fun, Time of Our Lives, and Give Me Everything" by Pitbull because I thought they were more fitting. From there I added a couple more miscellaneous songs that I thought fit in well such as "Can't Remember to Forget Your Name" by Shakira (which technically is a bit of the opposite of what you were going for but only if you really listen to the lyrics closely), "Say It" by Tory Lanez, "Aint S**t" by Doja Cat, and "Let Me Love You" by Ariana Grande.
In general the songs you have on your original playlist are not bad, but there are a lot of songs that either flip moods or just don't really belong in a playlist like this especially for how long it is. 
Revised Playlist: unhealthy recovery
Leave a Comment
About the Writer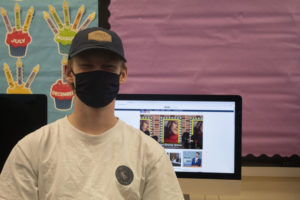 Jack Toal, Web Editor
Jack Toal is a Senior and Web Editor for "The North...