The Spotify Courtroom
Initial Grade: 93/100
Genres Included: Electronic, R&B, Indie
Playlist Creator: Koby Lofton
Playlist: Quaint
Initially I thought there was no way a playlist could intertwine Björk, Steve Lacy, The Smiths, and Kero Kero Bonito; but somehow it worked, and it worked very well. Throughout this listen I found that Björk is an interesting person and artist, however, she isn't always for me. In fact, that may be my only tiny complaint because you have as many Björk songs as you do total songs among the other artists. Yet, it's more of your style choice so it really does not matter too much to me.
The only song that I didn't think fit in with the playlist was "Gospel for a New Century" by Yves Tumor. It wasn't a bad song but I think the playlist would flow better without it. The only other songs I would consider removing are"N Side" by Steve Lacy and "Almeda" by Solange just because they don't quite fit the playlist as much as most of your other songs.
In terms of what to add to this playlist it's pretty difficult to think of what to add since it's so neatly organized. I tried to find similarities in the music as well as maintaining an order to the music for consistency in the playlist. I added "King of Carrot Flowers Pt. 1" by Neutral Milk Hotel to the end of the playlist because I thought it would wrap up the playlist in a more pleasing way. I also added "All Of Our Yesterdays" by Mac DeMarco mixed within the Steve Lacy to have a bridge between the genre types. Furthermore, I added "Boys Don't Cry" and "Just like Heaven" by The Cure mixed within the Björk to have some similarities but to also break up the amount of Björk there is in a row. Finally, I added a bridge between Björk and Steve Lacy with TV Girl because I believe that splits the genres a little better than before.
This playlist is super good even though I didn't think it would really work initially. This is the first time I've listened to a variety of Björk and Cocteau Twins songs which also kept me engaged with the playlist. Overall this playlist has the weirdest genre difference that I have ever seen but ultimately it works.
Updated Playlist: Frail
Leave a Comment
About the Writer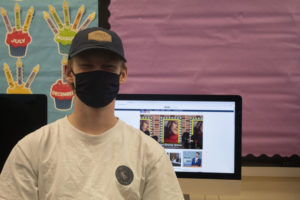 Jack Toal, Web Editor
Jack Toal is a Senior and Web Editor for "The North...