The Spotify Courtroom
Staff writer Jack Toal puts BVN's playlists on trial. This week, junior Logan Morgan testifies with an eclectic playlist titled "Driving Solo."
I'm Jack Toal, a junior at BVN and a staff writer for the North Star. I'm a self-proclaimed music aficionado, and that title isn't limited to any artist or genre or mood. I have a long and successful history of making playlists, as can be confirmed by my friends, who all leech off my playlists because I have the best ones. I thought I'd share my talents beyond my friend group and invite BVN to put their playlists on trial through a weekly column. In the Spotify Courtroom, I'll choose one submitted playlist each week, critique it, and offer suggestions as well as new and improved versions of it. 
---
Initial Grade: 76/100 
Genres Included: Experimental Rap, Rap, Hip-Hop, R&B, and Indie
Playlist length: 1 hour 9 minutes
Received from: Logan Morgan, Junior
Original Playlist: Driving Solo
Logan's Intent: "It's the one I listen to when I'm driving alone and my favorite playlist currently. I just wanted to see what you thought and would change."
---
Logan, the songs that you have in this playlist are all very good songs but the genres are all over the place. First are some Experimental Rap/Rap songs then you transition to R&B, then over to Indie, loops around to Hip-Hop, and back to Experimental Rap/Rap. The genre hopping is far too much so I had to take off a lot for that. I also don't like the songs "Deep End" by Foushee, "Buttercup" by Jack Stauber is only good for a minute and a half and the song doesn't sit well into many playlists at all. I also think the flow on "Same Ol" by Mick Jenkins is kind of annoying and his voice doesn't really sit on top of the beat well in my opinion.
I personally enjoy genre focused playlists so I can swap between genres more easily so I can get to the songs I feel like listening to with ease. What I would do with this playlist is make it Experimental Rap with R&B music mixed in or switching it to a R&B and slow hip-hop playlist would fit much better and be more organized as a playlist.. 
First, I would suggest cutting the Indie tracks, songs like, "Dreams" by Fleetwood Mac, "Little Dark Age" by MGMT, and "Float On" by Modest Mouse should be the first to go. I'd also remove "No Wind Resistance!" by Kinneret because it doesn't really fit anywhere in this playlist. The same can be said for "Buttercup" by Jack Stauber, "Deep End" by Foushee but these would be more up for debate depending on the mood the songs put you in
If you want the playlist to have more sad vibes, I'd remove the MF DOOM as well as the Baby Keem, Mick Jenkins, and Calebroate. Optionally, you can take out "Dmtri" by Action Bronson and "Fabrics" by Nelly. These songs fit the narrative of your playlist a little more but still aren't a complete fit so I'd recommend taking them off but leave it up to you more.
Recommendations if you're looking to keep it downcast would be adding some of the artists you already have like Mac Miller and Joji. For example, you could look into Mac Miller's 2018 album "Swimming" and 2020 album "Circles" (which I'm sure you already knew about) and I'd directly suggest adding, "Wings", "So It Goes", and "2009" for Mac Miller. For Joji you could add, "YEAH RIGHT", "Your Man", "XNXX", and "NITROUS", essentially the majority of his 2020 album "Nectar".  You could add more R&B to the playlist, and if you wish to do so, I'd suggest checking out SiR, Giveon, SZA, and Snoh Aalegra. They all have recent albums that came out (excluding SZA, but "Ctrl" is one of my favorite R&B albums) that have amazing songs that'll fit the mood of your playlist. I'd also suggest looking at JID's "The Never Story" album. It has every type of song that you could want on this playlist. Some of my favorites that would work here are, "8701", "All Bad", and "Somebody" that all have a relaxed beat with melodic vocals led by enticing lyrics. You can also expand more into the Mac Miller and Joji type of music and bring in some Frank Ocean, A$AP Rocky, and maybe some Lil Peep if you like some of his music. The type of music they have isn't all that similar on first listen but the music they make can fit well into almost any type of playlist with the sounds they provide in their music.
If you want to remove the sadder side and keep the playlist more laid back you should remove the Mac Miller, Joji, and "Violent Crimes" by Kanye West. Optionally you could remove Jorja Smith's "I am" if you go this route but I would suggest keeping that song in because of the all-around sound it has.
Recommendations I'd give for this section would be of course adding some more of who you have like MF DOOM and Mac DeMarco. One thing for MF DOOM, I'd suggest looking at the album "Madvillainy" which is by Madlib, MF DOOM, and Madvillain. This is one of the best hip-hop/rap albums of all time . You should also listen to "Illmatic" and consider  adding a lot of those songs to keep the older sounds that DOOM provides. I'd also add some Notorious B.I.G such as "Ready to Die", "Big Poppa", and "Juicy", and any of his other classics. I'd also suggest looking at Earl Sweatshirt and his album "Doris" with many great songs. Among my favorites would be "Chum", "Molasses","Hive", and "Woah". I'd also look at adding some songs from "Wolf" and "Goblin" from Tyler, the Creator. For example I would add "Awkward", "Answer", and "Jamba", from "Wolf" and "Window", and "Yonkers" from "Goblin". Lastly, you should look at some of the members from TDE and Dreamville to round this playlist out. I'd highly suggest looking at Isaiah Rashad and his album "The Sun's Tirade" and if you want "Cilvia Demo". My favorite songs from him would definitely include "4r da Squaw", 'Free Lunch', and "Wat's Wrong".
The last thing I'd like to say is these are all suggestions and you don't have to take any of them seriously if you don't want to. You could keep the playlist varied if you want or do whatever you want in general, it is your playlist of course. Regardless, you should take a  look at the artists I suggest because their music is amazing in general even if it doesn't fit what you want in this specifically. I based a lot of my suggestions on what you listen to now, so they're all similar artists to the ones you love and are definitely worth taking a chance on.
I took the playlist you sent me and made two versions of it, which are linked below. The first one is the so-called sad vibe that I suggested. It mixes R&B with some slowed hip-hop songs to fit the downcast aura. The second one focuses more on Rap and the different subgenres of it. It has a more relaxed and intricate idea to it.
What I'd Name It: All Bad or Downhill From Here
What I'd Name It: It Was All a Dream
View Comments (1)
About the Writer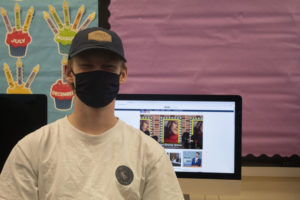 Jack Toal, Web Editor
Jack Toal is a Senior and Web Editor for "The North...