The Spotify Courtroom
Staff writer Jack Toal puts BVN's playlists on trial. This week, sophomore Arishya Pant, a fellow staff writer, testifies with a playlist titled "raw emotion," which features a fusion of different eras and subgenres of rock.
I'm Jack Toal, a junior at BVN and a staff writer for the North Star. I'm a self-proclaimed music aficionado, and that title isn't limited to any artist or genre or mood. I have a long and successful history of making playlists, as can be confirmed by my friends, who all leech off my playlists because I have the best ones. I thought I'd share my talents beyond my friend group and invite BVN to put their playlists on trial through a weekly column. In the Spotify Courtroom, I'll choose one submitted playlist each week, critique it, and offer suggestions as well as new and improved versions of it. 
---
Initial Grade: 87/100 
Genres Included: Rock
Playlist length: 1 hour 29 minutes
Received from: Arshiya Pant, Sophomore
Original Playlist: raw emotion 
Arshiya's Reason: "It's mainly a compilation of songs that, in my opinion, have a similar mood and are really good at making people feel something. I'd like to know your thoughts on the playlist or if you have any suggestions in mind."
---
Arshiya, this playlist is already really good, and you do a great job of sticking to one genre through the entirety of the playlist. You also encompass Rock from all eras, mostly from the past though, and have all sorts of sub-genres of Rock inside the playlist. I really like organized playlists and to see a playlist under 2 or 3 genres is really pleasing and well put together. 
The main thing I would suggest to do with your playlist is to cut out some of the longer songs you have such as "Riders on the Storm" by The Doors. While it is a great song, personally, I think it goes on slightly too long with a beat that contrasts quite a few of your other songs. I'd also Consider removing "Don't You (Forget About Me)" by Simple Minds because it contrasts about half of your songs with the upbeat sounds it has. Other optional removals would be "I'm Not In Love" by 10cc. Otherwise, I would just add songs to lengthen the playlist because I like having a much longer collective of songs that I like rather than limiting myself to 15 to 20 songs. I'd also look at trying to find more songs in general that could be more modern or farther back like 70's or 80's rock. Modern types of artists could be Arctic Monkeys or Cage the Elephant while 70's and 80's rock could include Supertramp and The Eagles. 
I'd highly suggest listening to Declan McKenna's album "What Do You Think About the Car" to fuse some more current rock sounds into this playlist. Songs I would suggest would be "Mind", "Bethlehem", and "I Am Everyone Else" because it fits the idea of your playlist and are overall amazing songs. I also noticed that you had a Cage the Elephant song, which is one of my favorite groups to listen to. I'd add more songs from their albums "Tell Me I'm Pretty", and "Melophobia" which could qualify as classics in my mind because of how well rounded and developed the albums are and how they've aged like wine. Songs by them that could be a good fit for this playlist would be "Hypocrite", and "How Are You True" but they have many others that would work just as well. 
My knowledge of oldies rock is fairly limited but I'll give you people and songs to check out with what I do know. You should check out Styx and their album "Pieces of Eight" and "The Grand Illusion" both of which may fit what you were hoping to achieve with this playlist. I'd also look at Kansas and their album "Point Of Know Return" and check out specific songs lik "Dust in the Wind", "Nobody's Home", and "Closet Chronicles" since they fit in the genre and moods of your playlist. Additionally, I'd add more songs by Pink Floyd and The Beatles. You should listen to the songs "Maxwell's Silver Hammer", "Blackbird", and "Oh! Darling" by the Beatles and the album "The Dark Side of the Moon" by Pink Floyd as starters. For the Pink Floyd album my favorites are "Time," "Breathe,"  and "The Great Gig in the Sky", but relatively any song on the album is amazing. I added a little bit of The Moody Blues, Foreigner, and Rush for more songs but you should consider looking into their discography more because I'm sure you'd find songs you'd like from them.
Some of what I added to make my version of your submitted playlist might be a little too upbeat to meet your original intent but you said that you would like to have songs that would make you feel something which is what I aimed to do, I think a lot of my suggestions could work well with what you already have. No matter what I say, this is your playlist, so I'd like to remind you that all of these are personal suggestions are just that: suggestions, This is your playlist so make your choice on what you do and don't like.
What I'd Name It: HeavNs Gate
View Comments (1)
About the Writer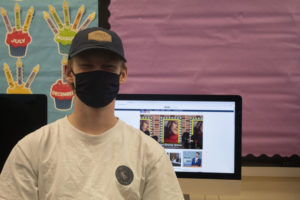 Jack Toal, Web Editor
Jack Toal is a Senior and Web Editor for "The North...