The Spotify Courtroom
Staff writer Jack Toal puts BVN's playlists on trial. This week, junior Max Wolf testifies with a hip-hop/rap playlist titled "for da homies", confident that he'll be released with his only charge being an A on Jack's grading scale.
I'm Jack Toal, a junior at BVN and a staff writer for the North Star. I'm a self-proclaimed music aficionado, and that title isn't limited to any artist or genre or mood. I have a long and successful history of making playlists, as can be confirmed by my friends, who all leech off my playlists because I have the best ones. I thought I'd share my talents beyond my friend group and invite BVN to put their playlists on trial through a weekly column. In the Spotify Courtroom, I'll choose one submitted playlist each week, critique it, and offer suggestions as well as new and improved versions of it. 
---
Initial Grade: 92/100
Genres Included: Hip-Hop, Experimental Rap, Rap
Playlist length: 3 hours 18 min, 46 min
Received from: Max Wolf, Junior
Original Playlist: for da homies
Max's Reason: "I simply think that my music taste is better than everyone else's."
---
Max, your "for da homies" playlist is fantastic. While there were some songs that I personally didn't like, I understand their appeal so I wouldn't suggest removing them. Instead, I'd like to offer a few artists to listen to, and hopefully, you haven't already heard of them or only know a little bit about them.
First, I'd take a look at Freddie Gibbs. He's a remarkable artist who has albums that never disappoint. He released his album "Alfredo" this year which, in my opinion, should be in contention for Rap Album of the Year. Check out "Skinny Suge", "Something to Rap About", and "Baby $h*t" for some great songs that could be perceived as relaxed or semi-hype which seem to fit in this playlist well. None of his albums seem to disappoint so, no matter which you choose, you'll be satisfied. You should also check out Odd Future and Run the Jewels (RTJ). They're both rap groups (RTJ is a duo) who produce amazing music, although Odd Future hasn't released an album in a long time. RTJ, on the other hand, has released 4 studio albums with their most recent release, "RTJ4", being from this year. "RTJ4" was also amazing with features from artists like Pharell Williams and 2 Chainz. The songs "ooh la la", "yankee and the brave (pt.4)", and "out of sight" have strong baselines that get you moving your head and making the stank face the second you hear it.
You should also go through Danny Brown's discography and his album "Atrocity Exhibition" from 2016. This album has a combination of the wildest beats and vivid lyrics mixed with his unique voice that completes the album in the most perfect way possible. Some of my favorite songs that would fit in this playlist would be "Lost", "Pneumonia", "Downward Spiral", and "Get Hi" but most of the songs from his album would work just as well here. I'd also look for Domo Genesis and his album "Genesis", which was also a 2016 release. "Awkward Groove", "One Below", "Go (Gas)" and "Coming Back" with the sonically pleasant sounds they provide. Other miscellaneous artists I'd suggest are Nate Dogg, Eazy-E, Action Bronson, Ab-Soul, Vince Staples, Earl Sweatshirt, Hieroglyphics, and Boldy James because of their versatility and the sounds they deliver can fit into almost any playlist.
This playlist is overall already really good, but there's always more to add in my opinion. After suggesting some of these artists, I looked through who you followed on Spotify and saw you knew who some of them were. Hopefully, you still enjoy what I have suggested and look into some artists that you didn't know. This genre is one of my weaker areas so I actually really enjoyed listening to your playlist because I got to hear a lot of songs I haven't heard before. The last thing I'd like to suggest is for you to change the name of your playlist because it is very generic and I personally find it to be fun naming playlists something interesting. Even if it's something simple like "A Tribe for the homies" or "A Tribe Called The Homies" to play off of A Tribe Called Quest's name, whatever would sound good to you.
What I'd Name It: A Tribe for the Homies
Leave a Comment
About the Writer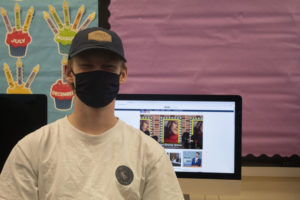 Jack Toal, Web Editor
Jack Toal is a Senior and Web Editor for "The North...