The Spotify Courtroom
Staff writer Jack Toal puts BVN's playlists on trial. This week, junior Lars Yarkosky testifies with his playlist of mostly rock and rap, titled "rock mf."
I'm Jack Toal, a junior at BVN and a staff writer for the North Star. I'm a self-proclaimed music aficionado, and that title isn't limited to any artist or genre or mood. I have a long and successful history of making playlists, as can be confirmed by my friends, who all leech off my playlists because I have the best ones. I thought I'd share my talents beyond my friend group and invite BVN to put their playlists on trial through a weekly column. In the Spotify Courtroom, I'll choose one submitted playlist each week, critique it, and offer suggestions as well as new and improved versions of it. 
---
Initial Grade: 88/100
Genres Included: Rock, Subgenres of Rock, Rap
Playlist Length: 12 Hours, 14 minutes 
Received From: Lars Yarkosky, Junior
Original Playlist: rock mf
Lars' Reason: "I feel constant pain and my playlist reflects this." 
---
Lars, I actually really like the layout of your playlist and the variety of artists and songs you have on here. You have a lot of classics and a mix of current songs that fit the playlist well like The Neighbourhood vs "Hotel California" by the Eagles. There are some songs that make me wonder why they're on here though. For example "MAMACITA" by Tyga and "Come & Go" by Juice Wrld and Marshmello since they contrast the general sound you have in the playlist. I'd start by removing those as well as "Blinding Lights" by The Weekend, "Paper Planes" by M.I.A, and lastly "Dream On" by Ronny James Dio (Dream On is just a repeat and isn't the correct version which would be the Aerosmith one). You could also remove "Money for Nothing" by the Dire Straits, simply because I found the song boring and not really fitting for your playlist since your playlist is composed entirely of different forms of rock which the majority of people know word for word.
As for what you currently have in terms of songs I thoroughly enjoy them. One thing I'd like to advise before I start suggesting songs and artists is to go further into the artists discorophies you already have on your playlist. While you do have a lot of classics in here you only have about one to three songs for each artist, when instead you should go into their album to listen to more of their songs if you like their music.
First genre I think you should check out is some Hard Rock like Metallica and see if you like it since you have a little of Hard Rock already in your playlist. Their self-titled album, "Metallica," has many great songs that you'd probably enjoy such as "Enter Sandman", "Sad But True", "The Unforgiven", and "Wherever I May Roam." They wouldn't contrast your playlist too much since you have such a variety of artists and types of rock. If you'd like to look into more of a soft rock/Motown sound I'd highly suggest looking at Four Tops and The Spinners. You'd for sure recognize some of their songs like "I Can't Help Myself" and "I'll Be Around" they're staples of soft rock and feature nifty voices so you're sure to like at least one of them. From The Spinners, you should listen to their album "Spinners" with songs like "Ghetto Child", "We Belong Together", and "Don't Let the Green Grass Fool You" the Motown sound is easily recognizable and will keep you coming back for all their music. As for Four Tops, I'd take a look at some of their top songs and see if you want to look at them more from there. For example, "Reach Out I'll Be There", and "It's the Same Old Song" are songs you might even recognize by them. If you're looking for a slightly more recent sound, you should check out Modern Baseball and The Front Bottoms. These artists have some very sad lyrics but since you feel constant pain and your playlists reflect this, they might be perfect for you. For Modern Baseball, their album "You're Gonna Miss It All" and their songs "Your Graduation", "Going to Bed Now", and "Apartment," have heart-wrenching lyrics over a rock beat. This attempts to mask the meaning of the songs but keeps you attentive to what they're really saying. As for The Front Bottoms, you should check out their EP "Ann" and their songs "Somebody Else", "I Think Your Nose Is Bleeding." if you want something super sad, "Lonely Eyes" can complete more of the modern indie rock/rock genre as long as you're okay with something more dramatic.
As for other miscellaneous artists, you should check out I'd say Mother Mother, Mom Jeans., Mt. Joy, Bad Suns, Pearl Jam, older songs/albums from U2, MGMT, Wallows, Peach Pit, Gorillaz, Beastie Boys, and Stone Temple Pilots. They have different contrasting rock sounds but since your playlist keeps that theme I'd suggest taking a look at some of them and seeing what you like.
This is a super-wide genre, and I honestly wouldn't even suggest shortening your playlist, but you might want to split them up into smaller playlists. Lastly, I'd advise looking at my article with Arshiya Pant and the HeavNs Gate playlist from there because you have slightly similar music types in your playlists.
What I'd Name It: rock a mf/rock a fella
Leave a Comment
About the Writer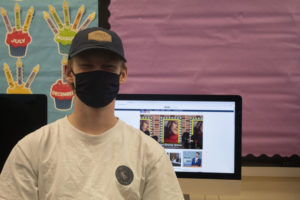 Jack Toal, Web Editor
Jack Toal is a Senior and Web Editor for "The North...