The Spotify Courtroom
Staff writer Jack Toal puts BVN's playlists on trial. This week, senior Casey Whitworth testifies with a playlist of mostly indie and alternative rock that she says puts her in a good mood on the drive to school.
I'm Jack Toal, a junior at BVN and a staff writer for the North Star. I'm a self-proclaimed music aficionado, and that title isn't limited to any artist or genre or mood. I have a long and successful history of making playlists, as can be confirmed by my friends, who all leech off my playlists because I have the best ones. I thought I'd share my talents beyond my friend group and invite BVN to put their playlists on trial through a weekly column. In the Spotify Courtroom, I'll choose one submitted playlist each week, critique it, and offer suggestions as well as new and improved versions of it. 
---
Initial Grade: 83/100
Genre(s) Included: Indie Rock, Indie Pop, Alternative Rock
Submitted by: Casey Whitworth, Senior
Original Playlist: morning drive
Casey's Reason: "I just wanted a playlist for all of the songs I would typically listen to on the way to school or work. There aren't any songs I would skip because they all give off a similar feeling that puts me in a good mood at the start of the day. There's also enough variety to where it doesn't get boring. I would say it just fits my overall taste even if some of the songs don't make sense next to each other."
---
Casey, to be honest, I don't know how you listen to this when you wake up. The songs are all relatively slow and sad which I usually don't prefer to start my day off. That being said I like a majority of the songs on here and I recognized a lot of the artists you put on here as well since they are some of my favorites. For example, Cage the Elephant, The Strokes, Fleetwood Mac, and Mt. Joy are among my favorites or artists I've been looking into more recently. Yet, as you pointed out in your quote, it's not very organized and it's more of a series of songs you enjoy. What I'm going to do here won't fix your organization but it'll give you more music to look at or add to this playlist. Since I like the one song per artist layout you have and don't really want to mess with it. The only song I may say would be better to remove would be "California Here We Go" by The Garden since it doesn't really fit into your playlist like all the other songs.
First off, I'm not going to suggest you remove songs by artists but instead look for songs by the same artists that fit into the playlist a bit better. Since Clairo is a great artist I wouldn't get rid of the song you'd have by her, instead, I'd replace "4EVER" with something like "North", or "Softly" since it fits more neatly in your playlist that "4EVER" does. Similarly, with Hippo Campus I think "Buttercup", or "South" would work better than "Way It Goes". 
Since in your playlist you only have one song per artist, I'm going to suggest a ton of artists and only one or two songs by them each that would fit decently into the playlist whether they're directly related to the genres you have in here or not. First, you should look at "In the Aeroplane Over the Sea", "King of Carrot Flowers Pt. 1", or "Oh Comedy" by  Neutral Milk Hotel because of the excellent sound they have that would fit well into this playlist. Next, Harmless would be a good artist to look at with a song like "Swing Lynn", or "Lakia" because they have a tempo similar to your other songs. Her's is also a good artist to look at and  "Dorothy" would work really well in this playlist since it has a fairly relaxed sound but still maintains the type of music you have throughout. You should also check out Beach House and their song "PPP", and "Space Song" to see if you'd like them. They're a little on the slower side but they still may work into what you are looking for since they're good songs. MGMT is another artist you could consider looking into and some of their songs like "Song for Dan Treacy", "It's Working", or "Congratulations" (which is slower than the other two I mentioned) because they have all different types of alternative rock music that are slow and fast which you could decide which you prefer after checking some of these out. Beach Fossils is also a really good band that may fit into this playlist with a song like "Careless" or "Down the Line" to keep a bit of that rockish theme in there. Park National is also really good and doesn't get nearly enough attention for songs like "How to Stop Caring", or maybe "Faking My Own Death" that have a bit more of a rock element compared to some of the stuff I suggested earlier.
Other artists that may fit into what you're looking to add into this may include but not be limited to, Peach Pit, Car Seat Headrest, Tame Impala, Steve Lacy, TV Girl, The Growlers, Hot Flash Heat Wave, The Clash, and Snail Mail since they fall into a similar sound like the rock or indie genres you have in here. This genre is broader than almost any other, in my opinion, so you really can't run out of bands or artists to look for.
Once again, I can't seem to figure out how you listen to slower songs when you wake up but to each their own. I think these songs I suggested you may like but I also think you should look beyond some of the songs I suggested into the artists' discographies.
What I'd Name It: blue tourists
Leave a Comment
About the Writer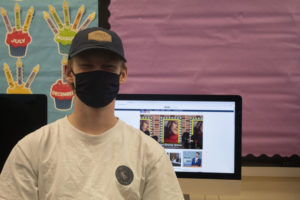 Jack Toal, Web Editor
Jack Toal is a Senior and Web Editor for "The North...