The Spotify Courtroom
Staff writer Jack Toal puts BVN's playlists on trial. This week, senior Kelsey Miller testifies with a playlist of sad songs meant for late night drives
I'm Jack Toal, a junior at BVN and a staff writer for the North Star. I'm a self-proclaimed music aficionado, and that title isn't limited to any artist or genre, or mood. I have a long and successful history of making playlists, as can be confirmed by my friends, who all leech off my playlists because I have the best ones. I thought I'd share my talents beyond my friend group and invite BVN to put their playlists on trial through a weekly column. In the Spotify Courtroom, I'll choose one submitted playlist each week, critique it, and offer suggestions as well as new and improved versions of it. 
---
Initial Grade: 75/100
Genres Included: Rock, Pop, Indie, Indie Rock
Playlist Length: 2 Hours 31 minutes 
Received From: Kelsey Miller, Senior
Original Playlist: depression songs 🤠
Kelsey's Reason: "It's one of my most listened to playlists and it's honestly super nice to just blast sad songs when you're driving around at night."
---
Kelsey, this playlist has a decent amount of genre hopping and the songs don't really flow well on here since they are in contrasting genres. They also don't really seem to fit the idea you say you're going for. If you want sad songs to blast in the car like you say then only some of these fit that category. Based on what you've told me, it seems like you want to turn on this music and just listen while you drive at night, such as music that involves impressive vocal work on a simple rhythm. In that case, I'd remove "Disenchanted" by My Chemical Romance and "Yesterday" by The Beatles because they feel like more relaxed songs instead of what it seems you're going for. "Leave" and "I Fall Apart" by Post Malone as well as "Wake Me up When September Ends" by Green Day, and "Love Of My Life" by Queen because those feel more like something you'd sing with your friends and "Leave" doesn't really flow with the rest of your songs. I'd remove all of your Twenty One Pilots and Muse songs because they have elements of hard rock that you don't have in your other songs and also aren't very sad. Optionally you could remove "Truce" by Twenty One Pilots "Last Hope" and "All I Wanted" by Paramore because, similarly to the Twenty One Pilots songs, they have heavy rock type elements but I could see the Paramore song being a bit sadder because of the lyrics they provide.
I'm going with some of the softer and slower songs as a guide for your playlist to keep the consistency of sound and genre. My first suggestion is very basic to put it simply. Frank Ocean, one of the most talented artists from the decade and one of the most popular as well. Frank Ocean has many amazing sad songs from his albums "Blonde" and "Channel Orange." Of which I'd highly suggest "Self Control", "Godspeed", and his single "Moon River" for this playlist. Frank's vocal sound and the slow, simple beat is sure to fit into the mood you seem to be looking for. Another good artist would be Phoebe Bridges and her album "Stranger in the Alps. More specifically, "You Missed My Heart," "Scott Street," and her single "Halloween," as some beginners, and if you like those you should look further into her album. Phoebe is an all-around great artist that's discography is mainly composed of slower, sadder songs that would all fit relatively well into this playlist. I'd also suggest checking out Current Joys and his album "A Different Age" since the sound he has on those albums is relaxing but also downcast. Songs like "Become the Warm Jets," "In a Year of 13 Moons," "My Nights are More Beautiful Than Your Days," and "Fear," as well as relatively any other song on the album would sit well in this playlist because they have similar sounds to the ones I suggested and songs in the playlist already.
Along with these artists, I'd suggest taking a look at RY X, Joji, Bruno Major, Omar Apollo, Mac Miller, Evann McIntosh, Lorde, Peach Pit, Wilbur, Lord Huron, Beach House, and Bon Iver. They are all among the same artists I suggested and also are in the same genre as the songs in your playlist already. The advanced lyrical writing that works in typically depressing songs is always impressive and can almost always work its way into any playlist of yours. Slow guitar and piano beats are usually aligned with sadder sounds but when songs have more advanced beats in typically saddening songs it can make the song all that much more beautiful. 
There are all kinds of sad songs and I personally don't like mixing a rock type of sad with a guitar strum and piano type of sad so I think it's best that you separate them and get two different sounds depending on what mood you're in.
What I'd Name It: showering with clothes on
Leave a Comment
About the Writer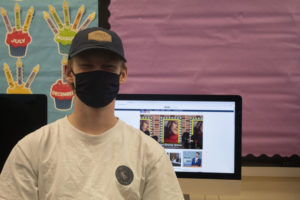 Jack Toal, Web Editor
Jack Toal is a Senior and Web Editor for "The North...