The Spotify Courtroom
Staff writer Jack Toal usually puts BVN's playlists on trial, but he's the one testifying this week. Junior Max Wolf, a former staff writer, comes back to the North Star to judge Jack's psychedelic rap and r&b playlist that Jack guarantees will give Max an out of body experience.
I'm Jack Toal, a junior at BVN and a staff writer for the North Star. I'm a self-proclaimed music aficionado, and that title isn't limited to any artist or genre or mood. I have a long and successful history of making playlists, as can be confirmed by my friends, who all leech off my playlists because I have the best ones. I thought I'd share my talents beyond my friend group and invite BVN to put their playlists on trial through a weekly column. In the Spotify Courtroom, I'll choose one submitted playlist each week, critique it, and offer suggestions as well as new and improved versions of it. This week, Max Wolf, who considers himself a rap and hip-hop extraordinaire, turns the tables on me to see if I'm worthy of being an advisor and grades one of my playlists. 
---
Initial Grade: 87/100
Genres Included: Hip Hop, R&B, Psychedelic Rap
Playlist Length: 9 hrs 35 mins
Received From: Jack Toal, Junior
Original Playlist: levitating beyond the stratosphere
Jack's Reason: "I wanted to see if people saw my playlists as good enough to give others feedback. I love sharing what I like to listen to do I want to see if others like it too. I chose this since that's the genre max and I like the most and added a lot of the songs that I consider 10's."
---
Jack's intention with this playlist was to give the listener an experience that blows their minds, and with a title like "levitating beyond the stratosphere", you can expect a lot of reverb on the beats and vocals flowing over their tracks with ease, and in most spots it delivers. There are a few songs that don't fit in my opinion, but all in all, Jack's playlist is great. Most of the songs on it fit the name, it's quite lengthy, which some may deem as too long but personally, I think this is a playlist that requires length, and there really isn't a bad song on it. However, I can see room for improvement. 
Firstly, The songs that immediately stuck out to me as ill-fitting were more in the pure hip hop range, and what I'm looking for in this mood is something a lot more psychedelic. I think he should try removing songs from Earl Sweatshirt, Kendrick Lamar, Joey Bada$$, and J. Cole. The songs chosen from these artists are great, however, I just don't think a lot of them really fit the intended mood. 
Secondly, I'd suggest more songs from albums like Mac Miller's "Swimming", Saba's "Care For Me", and Noname's "Telefone" and "Room 25". I chose these albums in particular because they're very relaxed albums with very slow tempos, and having that slow tempo paired with the laid back sounds really fits the intended vibe of the playlist. 
Overall, the playlist is great. I specifically enjoyed the choice to have a few songs from Kanye West's "ye" and "Kids See Ghosts" as well as quite a bit of Travis Scott and Frank Ocean. On the revised playlist, I was sure to add songs from the artists mentioned before, as well as some others that I didn't mention (i.e. Anderson .Paak, Kota the Friend, and more BROCKHAMPTON) as well as keeping some songs from the original playlist. 
What's I'd Name It: witnessing god in playlist form
Leave a Comment
About the Writer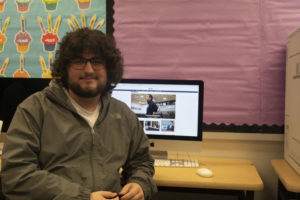 Max Wolf, Web Editor
Max Wolf is a Senior and Web Editor for "The North...