The Spotify Courtroom
Staff writer Jack Toal puts BVN's playlists on trial. This week, senior Gaby Kill, a fellow staff writer, testifies with a playlist designed to capture the essence of being a millenial white woman, as she puts it.
I'm Jack Toal, a junior at BVN and a staff writer for the North Star. I'm a self-proclaimed music aficionado, and that title isn't limited to any artist or genre or mood. I have a long and successful history of making playlists, as can be confirmed by my friends, who all leech off my playlists because I have the best ones. I thought I'd share my talents beyond my friend group and invite BVN to put their playlists on trial through a weekly column. In the Spotify Courtroom, I'll choose one submitted playlist each week, critique it, and offer suggestions as well as new and improved versions of it. 
---
Initial Grade: 83/100
Genres Included: White People Music, Indie, Indie Pop, Pop
Playlist Length: 1 hour 48 minutes 
Received From: Gaby Kill, Senior
Original Playlist: Indie/Crossroads/Local Craft Brewery Vibes
Gaby's Reason: "I wanted to encapsulate the vibes of drinking kombucha, wearing doc martens, and being a 27-year-old white woman."
---
Gaby, all of the songs on this playlist are really good and you do an amazing job of matching the vibe you were going for. But, the switches between sad and happy are insane. I'll be bouncing my head to "Tongue Tied" by Grouplove and then "Like Real People Do" by Hozier will come on and I'll have to lay my head on my desk and silently weep. It would be better to go for a more lighthearted and happy feeling on this playlist since that is what it already favors so removing the sad songs would be the first thing you should do. First, I'd remove "Cherry Wine", "Like Real People Do", and "From Eden" by Hozier because they make you feel very dejected compared to the heartening feel you're going for. I'd remove "Roses" by the Chainsmokers because the song is bad and also you have a guitar and piano type of sound for most of the other songs this one has a more computerized and EDM type of feel. I'd also advise removing "Sick in the Head" by the Lumineers because, similarly to the Hozier songs, the song is quite sad compared to the rest of the playlist. The rest of the songs I list are optional since they aren't quite sad enough to remove but could be considered so. First, "Atlantis" and " Oceans" by Seafret could be removed, "Sleep on the floor" and "Gun Song" by The Lumineers and maybe "Home" by Phillip Phillips.
Second, I'd look to add more 'throwbacks' than anything else because they would fit more into the 27-year-old idea better. For example, songs like "Hey, Soul Sister " by Train, "broken" by lovelytheband, and "Me and My Broken Heart" by Rixton would fit into the lighthearted idea perfectly. Many songs from the album Doo-Wops & Hooligans by Bruno Mars would be beautiful additions to this playlist. Songs like "The Lazy Song", "Marry You", and "Count on Me" have an upbeat theme that settles into the playlist nicely. Mars would be a great artist to add to this playlist in general but Doo-Wops and Hooligans would for sure work the best in terms of albums. Vampire Weekend would also be a great fit for this playlist because of the indie sound they have similar to the songs you have in the playlist especially with their self-titled album and their Modern Vampires of the City album. From their self-titled album, I'd take "A-Punk", "Campus", and "Mansard Roof." As for the Modern Vampires of the City, I'd take "Don't Lie", "Ya Hey", and "Unbelievers" since they have a similar sound to the previous Indie bands that you have added. Lastly, Foster the People would be a good band to add to this playlist with songs like "Life on the Nickel", "Waste", and "Miss You" for some amazing upbeat dancing type songs.
There are tons of artists for this genre, especially from the early 2010s and even some oldies would work well in the playlist. Artists like One Direction, Bob Marley, One Republic, fun., Saint Motel, BANNERS, The National Parks, Neon Trees, and Two Door Cinema Club. Most of these artists have a fun and upbeat sound that you can envision a millennial art person with a kid dancing to and will keep the playlist lighthearted and cheery.
Lastly, these are all recommendations and the playlist you already have is good, but I had to dock quite a few points because of the overly-diversified emotional palette I had to intake during the first listen. I think the revised playlist is a perfect embodiment of what you were looking for.
What I'd Name It: white people wedding music
Leave a Comment
About the Writer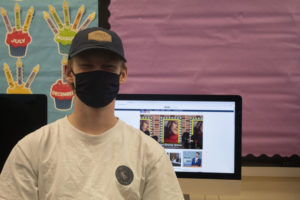 Jack Toal, Web Editor
Jack Toal is a Senior and Web Editor for "The North...