The Spotify Courtroom
Staff writer Jack Toal puts BVN's playlists on trial. This week, junior Koby Lofton testifies with a playlist that consists mainly of rap and hip-hop. He scored high, but his inclusion of "Jesus is King" Kanye kept him from an A+.
Initial Grade: 92.17/100
Genres Included: Rap, Hip-Hop, Underground Rap
Playlist Length: 5 hours 58 minutes 
Received From: Koby Lofton, Junior
Original Playlist: Riener Sucks
"I will be funnier next time, sorry." -Lofton
---
Your playlist is like a more modernized version of Max Wolf's first submitted playlist. There's a lot of Rap and then some oldies with lowkey instrumentals to accentuate the lyrics. Then you have Kanye-type music, where there's a larger mix of melodies and grand instrumentals that almost take priority over vocals, or the vocals become a part of the beat. The balance meshes oddly well though, and the only choices that stuck out to me were "After the Storm" by Kali Uchis and the Beastie Boys. I'd take out some of the Beastie Boys specifically "Brass Monkey", not that it's a bad song but it really doesn't fit in. You could remove "After the Storm" since it doesn't have the same type of energy or sound as your other songs, but you could also just keep it on and it will still be work since it's such a good song. Also, I don't know why "Closed on Sunday" by Kanye is on here, but please take it off. It messed with my whole interest in the playlist and is arguably the worst song in Kanye's discography.
I'd stay more towards the JPEGMAFIA and pre- "Jesus is King" Kanye side of the playlist, so you can keep more balance through it. Kenny Mason would go so hard on this playlist and the entirety of Angelic Hoodrat could fit into this as well. You could add "Lean", "Anti-Gravity" or even "U in a Gang // Exxon", if you want to appeal to the JPEGMAFIA side, but you could also do "30", "PTSD", or "Firestarter", which is basically half the album, but I feel like that really describes how fitting it is. Joey Basa$$ would also go well here because he really has the more slow beat, heavy lyric idea in his albums and songs, in general. Of course, 1999 would work in this playlist, specifically "Where It'$ At?", "Righteous Minds", "Hardknock". Or you could be basic and add "Daily Routine", although that wouldn't be a bad thing. Childish Gambino and Because the Internet would also be good additions here. "Crawl", "Earth: The Oldest Computer (The Last Night)", or honestly, "Sweatpants" would work fairly well, especially since you have "Father Stretch My Hands" in your playlist already since they are both pretty high energy songs.
Of course, you should also add Freddie Gibbs, Tyler the Creator, and Kendrick Lamar. As for additions, consider "Shutterbug" by Big Boi, Earl Sweatshirt, redveil, and Quasimoto. I already really like this playlist because of how you keep the music within one genre and it's long enough to a point where it's varied enough that you won't get bored of hearing the same type of sound. I didn't know many of the artists you had in here, which made it more enjoyable to explore. At the very least, please get rid of "Closed on Sunday," It is of utmost importance.
Revised Playlist: Reprise
Leave a Comment
About the Writer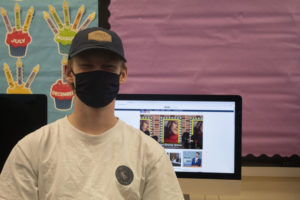 Jack Toal, Web Editor
Jack Toal is a Senior and Web Editor for "The North...