The Spotify Courtroom: Looking Back on 2020
Staff writer Jack Toal began his column in September 2020, putting BVN's playlists on trial, and improving them. In today's article, he reflects on this year in music, from his best revised playlists to the top album releases of the year.
The end of 2020 is on its way so I decided, for this week's column, I'm going to rank my favorite revised playlists that I've made from submissions by readers from this year, as well as my top 10 album releases from this year. I appreciate those who have read my articles since I started this column. It's the only assignment I look forward to every week, and I truly am intrigued about this and whether I only get some readers or no readers reading what I write, I'd still do it.
---
I am going to rank my top revised playlists from the articles I've written this year. Every revised playlist is based on an original playlist that a BVN student has submitted for me to judge for the column. I make revised playlists by adding or removing songs and artists, with my end goal being to make it an A+ playlist. These aren't based off of the rankings I gave the original playlist, but my enjoyment of the playlist I used from the playlists to make a new playlist.
8) It was all a Dream
Coming in last place, this was the second addition of the first article this year. The original playlist I received from Junior Logan Morgan consisted of a variety of genres that I tried to turn into a R&B fused with 90's and early 00's psychedelic rap. I don't think I took it to its full potential because I didn't know the 90's rap scene very well. Since then, I've listened to far more Biggie Smalls, Ice Cube, Outkast, and Nas, which gives me confidence that I could make a much better playlist now. It was all a Dream
7) rock a mf/rock a fella
In seventh place is the revised playlist based on Junior Lars Yarkosky's playlist "rock mf", which was composed of relatively every rock influenced song he liked. I tried to find more popular artists he didn't have in his playlist, but due to the fact the playlist was 12 hours. With almost every classic song I know, it was fairly difficult to find an artist he didn't already have. I included some good suggestions in the Four Tops and The Spinners but everything else I found didn't fit into the idea he seemed to be going for. I don't know if I could've done too much more but I think it was a bad idea to recommend mostly current artists. It still has really good artists and songs that I enjoy. It just doesn't string together well and sound very well rounded. 
6) showering with clothes on 
In sixth is the revised version of Senior Kelsey Miller's playlist "depression songs🤠'' which were typically sad songs brought into a playlist. I don't think the playlist I made is bad, but I think I did stray fairly far away from her original playlist form compared to the other revised playlists I have. If I did it again, I think I'd try to find a way to incorporate more of the songs she had from her original playlist. I love the artist included and a majority of the songs but it didn't quite fit the idea I had that I was going for by the end. 
5) white people wedding music
Fifth is a revised playlist from Senior Gaby Kill's playlist "Local Brewery Vibes", which was mostly composed of early 2010's throwbacks and music she described as what you'd think a 27-year-old listens to. This playlist was one of the most fun to make because it was entertaining, finding throwbacks and it had one of the most interesting outlines compared to any other playlist I made. I don't think there are really any issues with this playlist, it just isn't as good as the others. It wasn't quite as good as the other because I found this to be more of a just for fun, less genre based type of playlist and just wasn't quite as good. 
4) A Tribe for the Homies
In fourth is a revised playlist from Junior Max Wolf. This is based on his originally submitted playlist "for da homies", which is majorly based on rap from the 90's to the 2000's. I brought in  a lot of current artists with the same kind of sound and the playlist meshed together really well. I also got to further explore Domo Genesis who I was interested in but never got to check out. OVerall it was a great way to see new artists as well as make a fairly good playlist that I still use sometimes.
3) HeavNs Gate
In third is a revised playlist from Sophomore Arshiya Pant which is revised off her playlist "raw emotion". The original consisted mostly of oldies mellow rock and guitar based songs. The playlist was already really good to begin with so I didn't have to add too much to what she already had. The playlist is very complete and flows very well because it stays within the original genre and doesn't expand too far towards a different kind of music. 
2) All Bad
Second, is the first revised version of Logan's playlist. It is a R&B based playlist that ended up becoming one of my favorites due to the depth and artist diversity that all fit their role in the playlist beautifully. The playlist has all kinds of R&B artists and is great to relax to when you need it. 
1) Blue Tourists
"Blue Tourists" is my favorite because of how much I still listen to it even after I made it. The revised playlist is based on Senior Casey Whitworth's "morning drive" playlist. The original was just lacking some other sounds. After revision, it became one of my most complete playlists. The emotion it has is oddly hard to describe but is great if you're either relaxing or kind  of sad. It has every sound you could want in a playlist that stays within the one or two genres it belongs in. 
---
As for my top albums, I chose five if there's an album you're surprised isn't up here I either didn't listen to it or just didn't enjoy it too much, comment below with an album that isn't up here and I'll give it a chance. 
1. Circles by Mac Miller
This is one of the most beautiful albums I have ever heard, to put it simply. There isn't a single bad song and every song hits harder and harder knowing this is his last album ever. This album got me through the whole year and is in almost every one of my playlists I have. Whether you consider this pick basic or not, it really was the perfect album for this year with how sad it has been.
2. TAKE TIME by Giveon
Giveon was my favorite upcoming artist this year and his debut album TAKE TIME does not miss. Every single song is a hit and his voice is so perfect for every instrumental this album used. His songs are super easy to memorize and are perfect for late night drives. I was lucky enough to find Giveon when he had under a million listeners so I could share the hype around him. I could definitely see him becoming one of the top R&B artists in the current age and maybe even of all time. Overall, his debut album is one of the most graceful albums from this year and I am really excited to see where he goes from here.
3. Alfredo by Freddie Gibbs and The Alchemist
Freddie Gibbs is somehow just now getting the recognition he deserves after releasing multiple albums that are nearly perfect. Alfredo isn't even his strongest but, nonetheless, was a very well produced album. His lyrics glide perfectly over the beat and his storytelling is elite. It keeps you entertained during the whole 35 minutes of the album. The Alchemist, who produced the entirety of the album, also maintains perfect production throughout and no beat sounds too alike to the next. This album was probably Rap Album of the Year for me and is a super strong album that is always good to go back to.
4. Pray for Paris by Westside Gunn
This is the only other album that deserves Album of the Year. Every song is a hit. It's simple: his features on the album are amazing and I love his lyrical presence. He uses ad-libs to do more than just hype up his song; he exaggerates his bars. There is a consistent theme throughout his album and he often references the title of and other songs on the album to tie the project together perfectly.
5. F*ck the World by Brent Faiyaz
The sound Faiyez has on this album simply turned me into a new person. His dreamy sound and toxic lyrics are unlike any other. It doesn't make complete sense why his music makes you feel cool or something, but it just does and I love it. This album has great longevity and I'm still not tired of any of the songs on here after playing this album for months and memorizing most of the lyrics.
Near Contenders for Top Five
Zeroes by Declan McKenna
The Cool Tape Volume: III by Jaden 
 Man on the Moon III by Kid Cudi
It Is What It Is by Thundercat 
Chip Chrome & The Mono-Tones by The Neighbourhood
Honorable Mentions:
(In no particular order)
Punisher by Phoebe Bridgers 
Niagara by Redveil
Apolonio. by Omar Apollo
Spilligon by Spillage Village
Eternal Atake by Lil Uzi Vert 
Limbo by Amine
Leave a Comment
About the Writer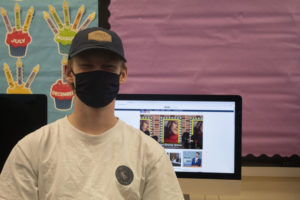 Jack Toal, Web Editor
Jack Toal is a Senior and Web Editor for "The North...